At 6:01 am on May 23rd, Jimu-1 Tethered Balloon soared above 7003 meters alongside Namtso Lake, one of the highest lakes in Tibet. Behind this record-breaking flight is an expedition team of over 50 researchers from the Chinese Academy of Sciences including the Institute of the Tibetan Plateau Research (ITPCAS), Aerospace Information Research Institute (AIRCAS), and Changchun Institute of Optics, Fine Mechanics and Physics.
The balloon sets a new record after its last public appearance in Lulong, Southeastern Tibetan Plateau. As a prominent water source of Asian Water Tower sitting at 4370 meters above sea level, Namtso Lake Basin qualifies as an ideal place for the flight. The home-grown balloon carried the observation instruments high in the air and brought back from an altitude of 7003 meters the key data of the atmospheric water vapor transport. The data will help the scientists understand where the water in the region comes from.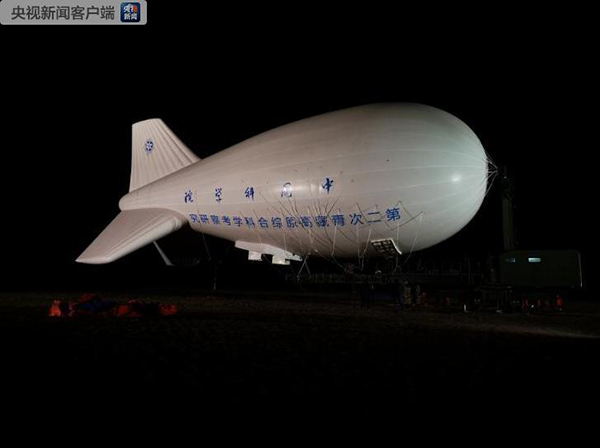 Jimu-1 Tethered Balloon Ready to Soar (Source: CCTV)
The tethered balloon is part of China's Second Tibetan Plateau Scientific Expedition and Research (STEP) led by Prof. Yao Tandong from ITPCAS. "STEP will be supported by existing networks of monitoring stations and bases as well as new facilities. Through observing key areas such as Southeastern Tibetan Plateau, the headstreams of rivers and lakes, the Himalayas and the Pamir Mountains, we aim to learn the processes and mechanisms of environment changes, particularly focusing on water, ecosystem and human activity across the region. Scientific understanding will, we believe, contribute to a better Tibetan Plateau," said Prof. Yao.